The Celtics are getting old and are clearly not on par with the league's elite. Ray Allen's expiring contract makes him a valuable trade chip that would give the Celtics the opportunity to get younger. So should they trade the aging, struggling star?
The Celtics have been struggling. They are 9-13 since Christmas day, including losses to the Lakers, Magic, and three to the Hawks. More disappointingly, they have losses to the Clippers, Pistons, and Warriors. They are 29th in the league in rebounding (only ahead of the Warriors) and 18th in scoring. In that 9-13 span, they've lost ten games when they were ahead by at least 10 points. Kevin Garnett is not the same and Rasheed Wallace continues to hoist up dumb three's. It is obvious that the team is not up to par with the league's elite and needs to shake things up. They won't be able to compete for the next few years with the roster only getting older. The problem is that the team is stacked with players who have little or no trade value.
Enter Ray Allen. The 34-year-old has a $19.7 million expiring contract that makes him an asset to teams looking to shed payroll for the offseason. Allen is having probably his worst NBA season. He is averaging only 16 ppg, the lowest since his rookie season, and shooting a career-low 33.8% from beyond the arc. His minutes are up and his averages are down.
Depending on who you believe, Allen is either being shopped or Celtics GM Danny Ainge is willing to listen to offers. Either way, he should pull the trigger on a deal that would bring them some young talent.
One potential trade idea being tossed around is for Sacramento King's guard Kevin Martin. He is an injury prone guard and sometimes dominates the basketball but he is young and his three-point shooting would make him a fit for the Celtics offense. More importantly, he can slash to the basket and finish, something that the Celtics are lacking.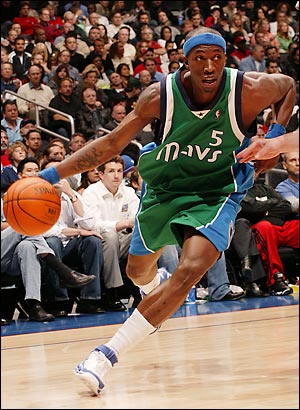 An intriguing move could be a deal with the Dallas Mavericks for Josh Howard. The Mavs are also looking to make a change at SG and are not afraid to pick up older veterans. Howard appears to need a change of scenery, although he is playing much better recently. He brings some of the same abilities to the table that Martin does but he is also an above average defender when he is motivated. Plus, he has an option for next season that the Celtics can exercise in order to keep him around.
As always, your thoughts on the subject are welcome in the comments section
OVERTIME
: As an added bonus to this post, check out Ray Allen playing recently in some player exclusive Air Jordan XIIs. He might not be playing great but at least he's playing in style.